Discover the Superior Choice for Your Online Income Journey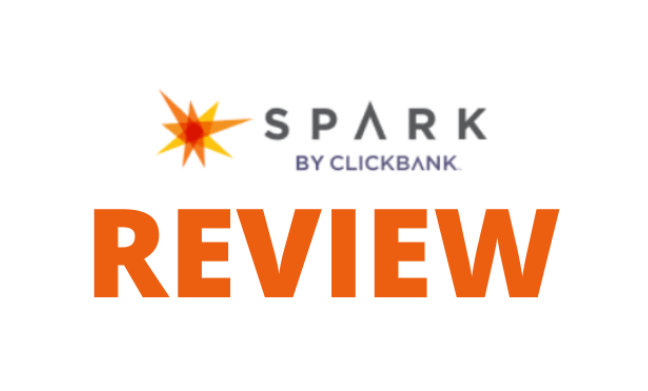 Spark by Clickbank is a leading product in the "Make Money Online" industry, offering individuals a comprehensive platform to explore and maximize their online income potential. In this review, we will delve into the key features, training, and support provided by Spark, while also looking at potential alternatives to help you to learn how to generate a passive income online. 
Company Background and Trustworthiness:
Clickbank, the company behind Spark, has established itself as a trusted and reputable entity in the industry. With years of experience and a solid track record, Clickbank ensures transparency, legitimacy, and customer satisfaction. The company's commitment to customer privacy, refund policies, and stellar customer reviews further reinforces its trustworthiness. 
That is the company behind Spark. But, what about Spark itself? What is its Trustworthiness? 
One of the platforms that are available to help potential customers to review a product online, especially in the Make Money Online niche, is Trustpilot. Trustpilot is a website that hosts reviews to help consumers shop with confidence. They deliver insights to help businesses improve the experiences they offer. You can find them on Trustpilot.com and type in the business name to get an overall review and read actual reviews from customers who have used the product. 
I went to Trustpilot.com and entered Spark By Clickbank. The information I found is displayed below.
As you can see from the image above, the overall Trustpilot rating for Spark By Clickbank is a 3.0 and according to the reviews, 31% of the people who have tried this product rated it as a 5-star rating and 38% have rated it as a 1-star rating. You can see the numbers in between these to get an overall trustworthiness score. 
Product Overview: Spark by Clickbank:
Spark offers a imsuite of tools and training materials designed to empower users in their pursuit of online income. From comprehensive video tutorials to in-depth webinars, Spark equips individuals with the knowledge and skills necessary to succeed. The program's unique selling point lies in its focus on practical strategies and actionable steps, making it accessible to both beginners and experienced marketers. 
Spark by Clickbank Pricing
Spark offers three main packages or what they call Bundles. They are called Side Hustle, Career Starter, and Super Affiliate. Each of these bundles includes a set of courses, community access, and tools, and, of course, price. The level of training and support you get depends on which of the three bundles you purchase.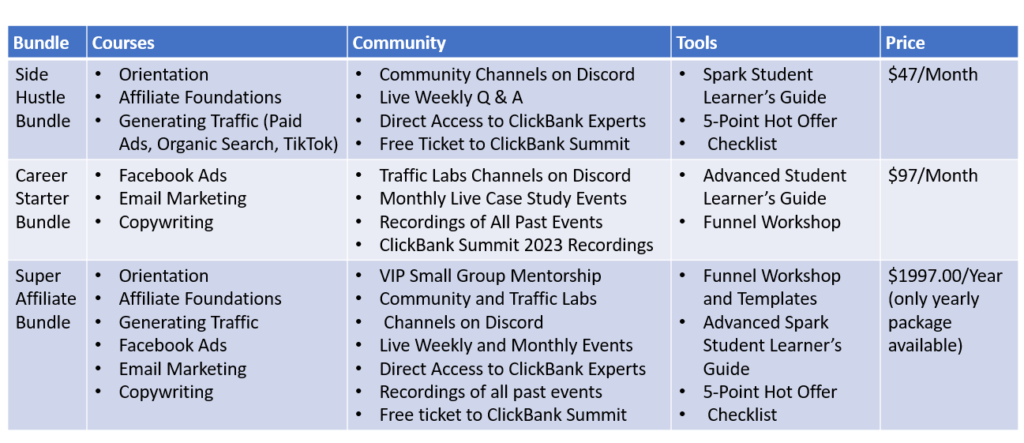 Training and Education: 
Spark provides high-quality training resources that cover a wide range of topics, including affiliate marketing, e-commerce, and digital product creation. The modules are structured in a logical and easy-to-follow manner, enabling users to grasp the concepts quickly. The program also incorporates case studies and real-life examples to enhance the learning experience and foster practical application.
The level of the training and education is dependent on which of the above bundles you purchase. The most advanced training is included in the Super Affiliate Bundle. This allows you access to a community that offers a more hands-on experience. But, as you can see, it is quite expensive. To get the kind of hands-on experience and training, you need to be prepared to spend the money necessary for the right tools, training and community support.
Support and Community: 
Spark offers robust support mechanisms to its users. The platform provides responsive customer service, ensuring that users receive timely assistance with any queries or technical issues. Additionally, Spark boasts a vibrant community of like-minded individuals who actively engage in forums, mentorship programs, and networking opportunities.
The supportive community serves as an invaluable resource for knowledge sharing and collaboration. But again, in order to get the most out of the community you are encouraged to purchase the Super Affiliate Bundle. This gives you small group mentorship as well as community and traffic labs to help with your needed traffic generation.
Spark Pros and Cons
As with any product or service, it is a good idea to look at both pros and cons in order to conduct your due diligence before purchasing. Here is an honest list of the pros and cons of Spark by Clickbank.
Pros:
Comprehensive training materials covering multiple income generation strategies
Access to valuable tools and resources
Offers a range of income-generating opportunities
Cons:
Focused primarily on paid advertising through Facebook, which can be expensive for some users
Multiple "Bundle packages" This makes it confusing for the beginner to know where to begin.
Ignite Your Success: Discover a Powerful Alternative to Spark
While Spark offers valuable features, it's worth exploring an alternative like Wealthy Affiliate or WA as it is often times referred to as. Wealthy Affiliate is a reputable platform known for its extensive training, powerful tools, supportive community, cutting-edge technology, AI tools, and a vibrant community to turn your online business dream into reality. It offers a step-by-step approach to building an online business, making it an excellent choice for beginners and experienced entrepreneurs alike.
Wealthy Affiliate stands out in terms of its flexibility and cost-effectiveness. Unlike Spark, which primarily focuses on paid advertising through Facebook and in order to gain total community access, you have to make a fairly large investment. Wealthy Affiliate provides a broader range of options for driving traffic and generating income. These options include organic search engine optimization (SEO), content marketing, social media marketing, and email marketing. This versatility allows users to explore various strategies without relying solely on expensive paid advertising.
Trustworthiness Comparison: 

When comparing Spark and Wealthy Affiliate, several factors come into play. While both platforms offer comprehensive training and support, there are distinct differences worth considering. The first one is the trustworthiness of the two companies and how they compare with each other. For example, as mentioned above, Spark By Clickbank received a trustworthiness rating of 3.0 by Trustpilot.
But, what about Wealthy Affiliate? Wealthy Affiliate is another affiliate marketing platform that you really should take a look at if you are interested in learning how to generate a great online income through affiliate marketing. Even if you want to sell ClickBank products (or any affiliate product for that matter) Wealthy Affiliate shows you how step by step. So, let's take a look at the Trustpilot rating for Wealthy Affiliate.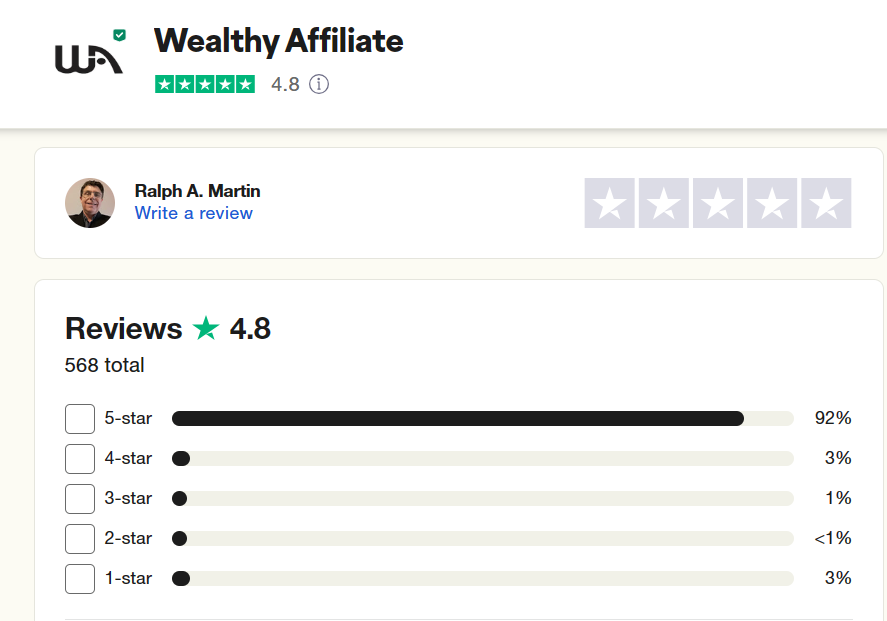 As you can see from the image above, the overall Trustpilot rating for Wealthy Affiliate is a 4.8 as of the date of this article keeping in mind this is live data. According to the reviews, 92% of the people who have tried this product rated it as a 5-star rating and 3% have rated it as a 1-star rating. You can see the numbers in between these to get an overall trustworthiness score. 
Another aspect of trustworthiness lies in customer reviews. Trustpilot, being a third-party site, is a great place to see if people who tried the product are happy with it. Keep in mind, the following reviews are not from the Wealthy Affiliate site, but from a third party, which really says something about this industry. This is what makes Trustpilot such a great resource. It gives you information that is not biased so that you can do your due diligence before investing in a product or service. Below are a few reviews that came from the Trustpilot website about Wealthy Affiliate.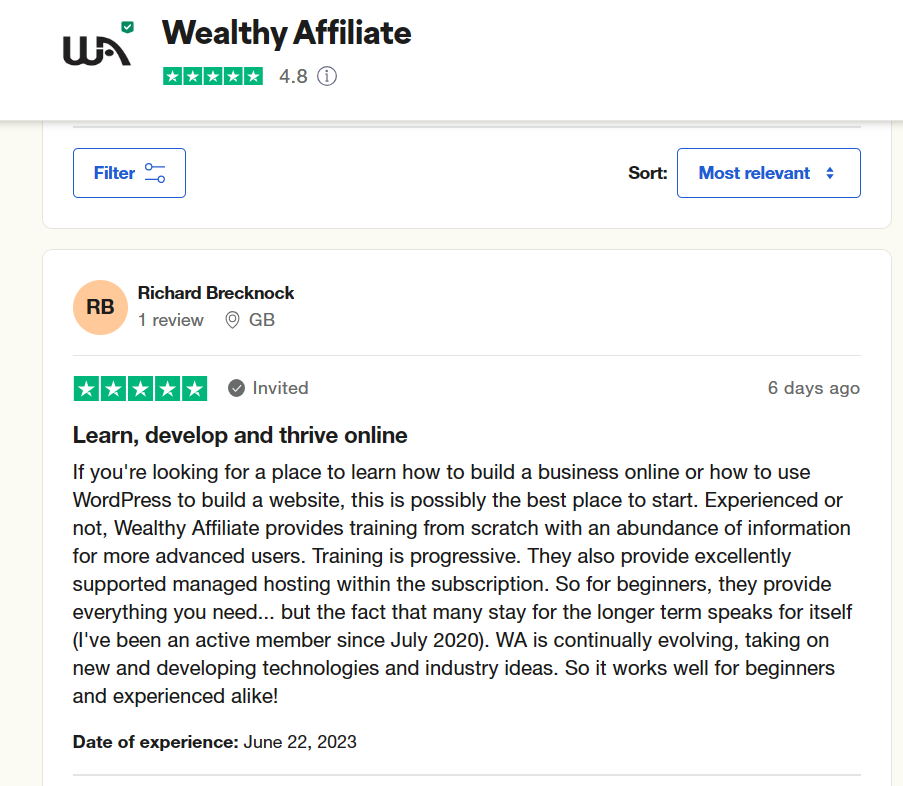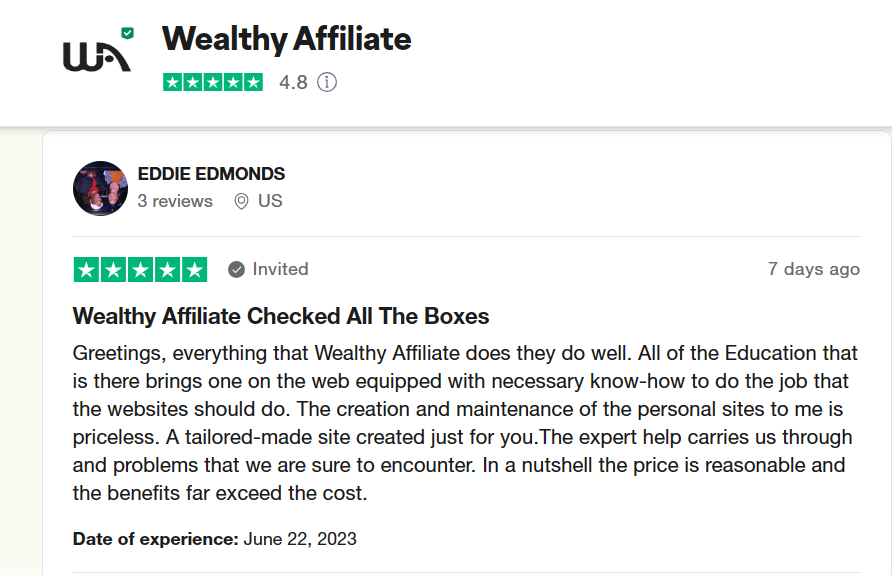 Training Quality: 
Both Spark and Wealthy Affiliate provide high-quality training materials, but Wealthy Affiliate allows you to get complete step by step training included in their Premium membership, which is only $49 a month. This training provides everything you need to build a professional and profitable online business. There is also a Premium Plus membership, which is only $99 a month which give you over 200 different trainings on advanced topics taught by experts within the community.
Included in the Premium membership ($49 per month) is a Entreprenurial Certification training which provides step by step training from the development of your own niche website to awesome traffic generation training in addition to high technology training including AI techniques. Wealthy Affiliate stays on top of technology and is committed to outperforming its competitors.
Support and Community: 
Spark offers responsive customer service and an active community, but Wealthy Affiliate's extensive network of experienced marketers and dedicated forums provide an unparalleled level of support and mentorship.
Wealthy Affiliate stands out as a superior alternative to Spark by Clickbank when it comes to support and community engagement. With an extensive network of experienced marketers and dedicated forums, Wealthy Affiliate provides unparalleled levels of support and mentorship. The active and engaged community serves as a valuable platform for members to connect, seek guidance, and share experiences. Additionally, Wealthy Affiliate's responsive ticket system ensures that queries and concerns are promptly addressed by their knowledgeable support team.
The community at Wealthy Affiliate goes beyond typical customer service, fostering a thriving hub of like-minded individuals who are passionate about achieving online business success. By actively participating in the forums, members can tap into a vast pool of knowledge and gain insights from successful marketers. The accessibility to mentors and industry professionals within the community enhances the learning experience, providing valuable guidance and increasing the chances of success. With Wealthy Affiliate, users can rest assured that they will receive comprehensive support and be part of a supportive community that is dedicated to helping each other thrive in the online business realm.
Success Stories/Testimonials: 
Both platforms have success stories and testimonials, showcasing individuals who have achieved online income. However, Wealthy Affiliate's vast collection of success stories spanning various niches further demonstrates its effectiveness. Wealthy Affiliate has over two million members and a plethora of successful affiliates who all started at the beginning. Listed below are just a few of the testimonials of actual members. There are many more.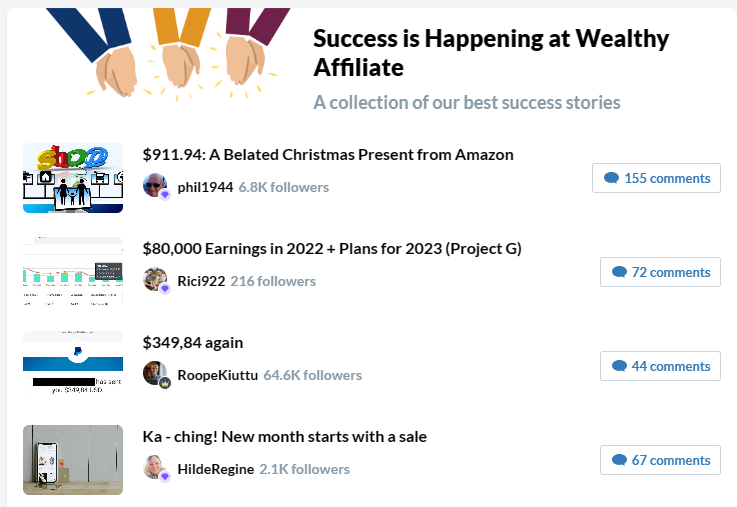 Pricing and Value for Money: 
The pricing structures of Spark and Wealthy Affiliate differ. While Spark offers various subscription plans, Wealthy Affiliate provides a comprehensive package at a competitive price point, including hosting, keyword tools, and an extensive training library. Below is a comparison chart highlighting the differences between these two platforms.
Key Attributes
Spark by Clickbank
Wealthy Affiliate
Company Longevity
Established in 2020
Established in 2005
Price
Side Hustle 47/month
Career Starter 97/month
Super Affiliate 1997/ year
Free and Premium Plans
(Premium 49/month, Premium Plus 99/month.
Hosting Available
Yes
Yes
Keyword Tools Available
Very Limited
Extensive
Training Platform
Facebook Ads Focused
Comprehensive
Research Tools
Limited
Extensive
Free Option
No
Yes
Trustworthiness (Trustpilot.com Score)
3.0
4.7
Use of AI
Limited
AI-Driven Training
Unleash Online Business Success with WA
Discover the all-in-one solution for building a successful online business – Wealthy Affiliate. With its comprehensive training, active community, and trusted reputation, Wealthy Affiliate provides the perfect foundation for your online income generation journey.
By signing up through this link [affiliate link], you'll gain access to a vast library of training materials, including live webinars, interactive courses, and step-by-step tutorials. Whether you're a beginner or experienced entrepreneur, Wealthy Affiliate equips you with the necessary skills and strategies to thrive in the online business world.
Join thousands of like-minded individuals in the vibrant Wealthy Affiliate community. Collaborate, seek advice, and gain valuable insights from successful entrepreneurs who are dedicated to supporting your growth. With a strong reputation built on ethical practices and genuine value, Wealthy Affiliate is the trusted platform to guide you towards online business success.
Don't miss out on the opportunities available. Start your journey towards online income generation with Wealthy Affiliate by your side. Sign up today through this link [affiliate link] and unlock the full potential of your online business.
Conclusion: 
Spark by Clickbank offers a valuable platform for individuals looking to generate income online, with its practical training and supportive community. However, when considering the comprehensive package, extensive support, and competitive pricing, Wealthy Affiliate emerges as the preferred choice for those seeking a well-established platform to unlock their online income potential.